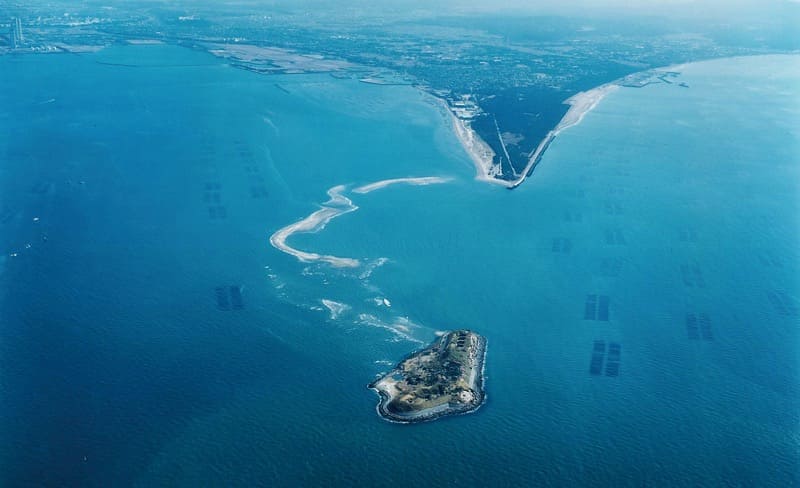 What is "Kaihou" in Tokyo Bay?
In the middle of Tokyo Bay, there are three artificial islands, sea forts, constructed mainly of stone and sand.
Shinagawa Daiba, which was built offshore of Shinagawa in the first year of Ansei (1854) in the late Tokugawa period, is considered to be the first "Kaihou" (sea fort) in Japan.
The technology and knowledge cultivated through these constructions are still the foundation of offshore construction. In addition, the No. 1 sea fort has been designated as a buried cultural property enclave site in Chiba Prefecture, and today, valuable buildings that make full use of the latest technology of the time are gaining attention again.
Overview of the No.1 sea fort
Area: 23,000 ㎡
Construction period: Meiji 14 (1881) to Meiji 23 (1890)
Craftsmen and workers: Approximately 320,000
Total construction cost: About 380,000 yen (current value of about 1.75 billion yen)
Outlook of construction days
The No.1 sea fort was built in the sea at a depth of 1.2 to 4.0 m at the tip of Cape Futtsu, and was originally called Futtsu Sea Fort.
Since there were no photographs left at the time of construction, we tried to reproduce the appearance at the time of construction based on the existing literature.
The picture on the right shows the appearance of the No.1 sea fort taken after the end of WW II. You can see that the armament arrangement is different compared to the reproduced CG.
In the time when the era moved through from Meiji, Taisho, and to Showa, it is believed that the fort has changed its appearance in order to cope with changing strategies and evolving fortress artillery technology.